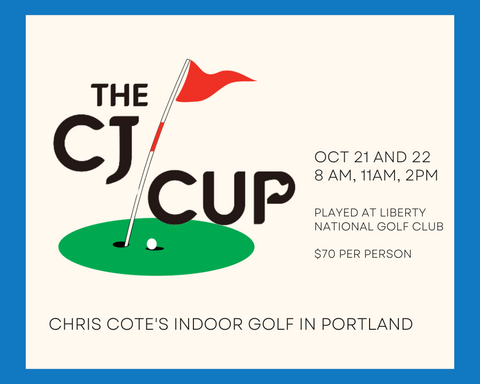 Chris Cote's Golf Shop
The CJ Cup at Indoor Golf - Oct 21 and 22
Indoor Golf is back for it's 4th Season!! To kick things off, we are hosting the first annual CJ Cup Scramble at Liberty National in unison with the PGA tour.
All rounds to be played at Indoor Golf in Portland on Fri Oct 21 and Sat Oct 22
Tee times at 8am, 11am, and 2pm on both days
Cost of Admission $70 per player
Course-  Liberty National (par 72)
Format - scramble
Please email adam.hunt@chriscotegolf.com if you have a foresome or would like to be paired up with friends. Single players will be matched up.
First Place - $100 Chris Cote gift card / person
Second Low - $50 Chris Cote gift card / person
Third Low - $25 Chris Cote gift card / person